Get Paid to Click?
How to earn money with clicks
Besides the surfbar and the mail exchange, you can earn assets by clicking ads of our advertising partners. The so-called Pay to Click (PTC / Pay per Click (PPC) click-campaigns are selected advertising campaigns that are located on the eBesucher interest areas. The interest areas are located on the eBesucher Dashboard of the members area or on the main website
Paid to click statistics & earnings
The earned bonus points are displayed in the statistics, see Surfbar & Clicks > Statistics (earnings in BTP). The bonus points can be turned into money and you can request a payout in the members area, see: Earnings > Payout.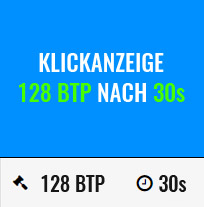 Important: Since click campaigns can be advertised through distince interest areas, you will only get to see campaigns that are being promoted in an interest area of your choice. Reminder: the interest areas can be determined in the members area, see right top screen: 'Your Username' > Personal interests.
The click ads are not showing up!
In order for the click ads to be displayed, it is necessary to be logged into the members area or to have accessed the area of interest via a surflink. The username or name of the Surflink must therefore be displayed on the interest area, see example below: ebesucher.surf1.

Furthermore, you must make sure that the connection test can be loaded. The connection test is only successful if ad blockers like AdBlockPlus have been disabled. The connection test appears in the area of interest and is executed automatically.
Another source of error may be that the terminal used is not connected to an end customer provider (Deutsche Telekom, 1und1, etc.). Please ensure that you have established a direct connection via your end customer provider and make sure that no proxy or VPN is used. In order to rule out local problems with the used browser, use another browser for testing. We recommend Google Chrome or Mozilla Firefox.
If there are still no clicks to show, there may not have been enough Interest areas selected in the members area, please verify it. We recommend to select at least 10 areas of interest.
Note: It is possible that the user's IP address is currently blocked. This is because advertisers only want to promote their website to the same IP address at certain intervals. In this case, please check back in a few hours, new click ads will then be displayed.
---
FAQ for Users
Traffic exchange
Mail exchange
Click campaigns
eBesucher Addon
System support
Refer a friend
Violation of our rules
eBesucher API
More