What is the eBesucher Addon?
eBesucher Addon for the Surfbar and Clicks
The eBesucher Addon is a non-mandatory browser tool for surfing with the surfbar and visiting websites through the click campaigns.
In contrast to the old Firefox Addon, the eBesucher Addon is available to users of Mozilla Firefox, as well as to users of the Google Chrome internet browser.

The eBesucher Addon offers an identical functionality for both browsers and is available to all users of the surfbar and click campaigns. The eBesucher Addon offers the following features:
Increased earnings in the surfbar, since all advertising campaigns can be displayed.

The surfbar can be startet automatically through the eBesucher Restarter.

No second TAB and no surfbar helper is required to run the surfbar.

The surfbar is more stable and immune against framebreaker .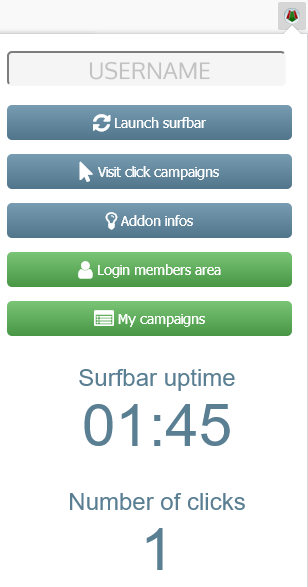 Where can I download the eBesucher Addon?
The eBesucher Addon for Google Chrome and Mozilla Firefox is available for download in the Chrome Webstore, as well as the Mozilla Website.
---
FAQ for Users
Traffic exchange
Mail exchange
Click campaigns
eBesucher Addon
System support
Refer a friend
Violation of our rules
eBesucher API
More