After updating to the latest Firefox version, the eBesucher addon can not be displayed in the browser interface. More infos on this can be found in our blog.
Firefox Add-On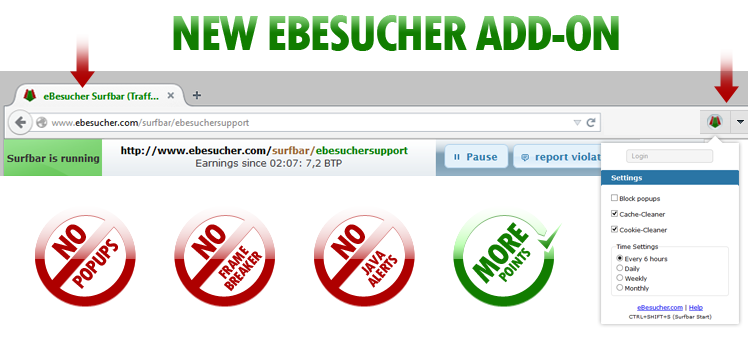 The eBesucher add-on is plugin for the Mozilla Firefox webbrowser, which optimizes your surfing session with the surfbar. In order to improve your earnings and to render the surfbar more stable, we recommend the add-on to all our users. In addition, the eBesucher add-on allows you to visit websites that load a framebreaker.
Installation manual
Please note: The Mozilla Firefox web browser has to be installed on your system in order to get the add-on running. You can download the browser for free from the following link: http://www.mozilla.org/en/firefox/new/
Minimum required version: Firefox 31+
Step 1
You can find the add-on on the following site: https://www.ebesucher.com/data/firefoxaddon/latest.xpi
Once the link has been accessed, you will be asked to confirm the installation of the add-on. Please click on "Install" in order to proceed!
Step 2
The eBesucher add-on has been successfully installed. The eBesucher icon now appear in the top right corner of your browser. It allows you to start and stop the surfbar at any time. The add-on will improve your earnings and increase the stability of the surfbar.

Handling
For detailed information on the installation of the eBesucher add-on as well as further features, please consult our wiki:
http://wiki.ebesucher.de/EN/Traffic_Exchange/Firefox_Add-on