Software: eBesucher Restarter
To ensure that our surfbar can run correctly and on a permanent basis, a browser would be required, which is protected against all possible webpage errors (the surfbar itself is of course correct, but it can be loaded in many different websites that can contain errors). Unfortunately, all of the currently available browser are not stable enough and are likely to crash sooner or later. We have therefore invented a special software, which can automatically restart the surfbar once the browser has crashed.
Functionality
After having launched the restarter software, it will monitor whether your surfbar is still running. If it is no longer running, your browser will automatically restart and your personal surflink will open again. The browser will stop (hence, all sorts of program queries will be ignored and are forced to close themself), this is important in order to guarantee that the surfbar is running smooth and steady.
Screenshot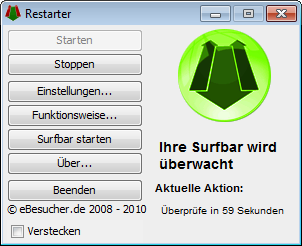 System requirements
Operating system: Windows XP / Vista / 7 / 8 / 10, MacOSX, Linux or Solaris
1 MB hard disk space is required
Current version
Version: v1.2.04
Publication date: 22.05.2013
Please note: In order to run the restarter, you need the internal access code of the software ("Enter the generated password"). On the first run of the software, you can just copy and paste the following code:
Installation