Questions about the traffic exchange
How the traffic exchange works
In the concept of the Traffic Exchange the principle of giving and taking is extraordinary important. This means, that your own contribution can be exchanged for the contributions of other members. In this case it is about website visitors and hence the impression of pages in the surfbar, a tool which has been specifically developed for this purpose. In short: you visit the websites of other users and in return, you can promote your own project the users or redeem your efforts and turn them into money.

The eBesucher Traffic Exchange allows you to earn points (BTP) for surfing with our surfbar. The surfbar is a personalized link which looks like this http://www.ebesucher.com/surfbar/YOURUSERNAME, all you have to do is to open the link and have websites displayed in your browser. The pages that are loaded in the surfbar are advertising campaigns from other members or from our sponsors. Every now and then, the surfbar will reload its content and a new site will be displayed automatically.
eBesucher is thus acting as a mediator between the one who advertises and those who are watching the ads. We provide the platform, the technical know-how as well as the software for the exchange.
Using the eBesucher surfbar
The Surfbar can be started in the members area via the Dashboard, see Start & Infos > DISCOVER NEW WEBSITES. A new window / TAB will open which redirects you to a random interest area. Next, simply click on Discover and the websites of the advertisers will be automatically displayed. In order to run the surfbar, both the dashboard and the now open window / TAB must remain permanently open.
You are being rewarded for each displayed website of our advertisers. The Surfbar updates itself and loads new pages at regular intervals. The points earnings are thus fully automated.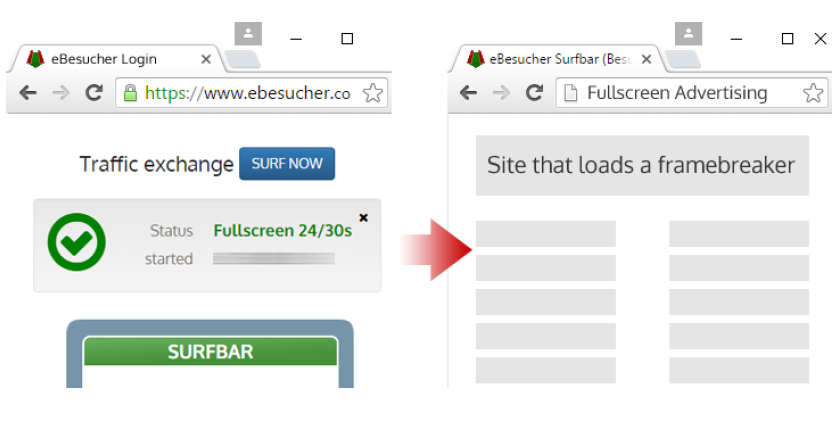 Surfbar settings
The tab Surfbar & Clicks > Settings determines which websites are displayed in the surfbar. You can also determine whether to display paid advertised bonus websites or content pages that are hosted by us nd that take into account your personal interests.

Surfbar earnings & statistics
The statistics on the earned points can be found in the members area, see Surfbar & Clicks > Statistics.
---
FAQ for Users
Traffic exchange
Mail exchange
Click campaigns
eBesucher Addon
System support
Refer a friend
Violation of our rules
eBesucher API
More