How can I install the eBesucher Addon?
eBesucher Addon Installation Guide
The eBesucher addon for the Surfbar and Clicks is a free tool for all users.
The eBesucher Addon is available in the Chrome Webstore and the Website of Mozilla Firefox. The functionality of the addon is identical for both browsers.
Installing the eBesucher Addon in Google Chrome
Before you begin, please make sure that your browser version of Google Chrome is up to date. We recommend using Chrome 69 or a younger version. Google Chrome is a free webbrowser.
1.) Open Google Chrome and navigate to the listing of the eBesucher Addon in the Chrome Webstore.
2.) Click on Add to Chrome.

3.) Chrome asks for permission. The installation can be completed by clicking on Add extension.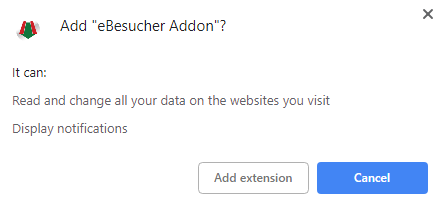 4.) The eBesucher Addon is now installed and will start automatically when you open the link to your surfbar or the click ads.
Installing the eBesucher Addon in Mozilla Firefox
Please make sure that your version of the Mozilla Webbrowser is up to date. We recommend using Mozilla Firefox 61 or younger. Mozilla Firefox can be downloaded for free
1.) Open Mozilla Firefox and visit the eBesucher addon on the Mozilla website.
2.) Go to + Add to Firefox

3.) Firefox requires you to grant necessary permissions. You can finalize the installation by clicking on Add.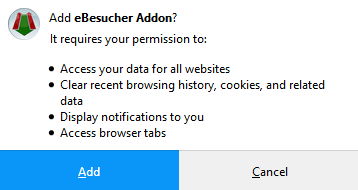 4.) Congratulations! You have successfully installed the eBesucher Addon. The addon will start automatically when accessing the surfbar or clicking ads. In addition, you can access the addon through the browser menu in the top right corner of your browser.
Feedback on the eBesucher Addon
The eBesucher Addon BETA has been released in October 2018. We are planning on continuously updating the eBesucher Addon. Therefore, we require your feedback!
A thorough and plain feedback on the addon helps us in optimizing the addon to your needs. Answers on relevant questions regarding the addon would be:
What is working well?
What needs to be improved?
What are your individual experiences?
You can send your feedback to our support team or write a feedback directly in the Google Chrome Webstore and the Mozilla Firefox website. Thank you in advance!
---
FAQ for Users
Traffic exchange
Mail exchange
Click campaigns
eBesucher Addon
System support
Refer a friend
Violation of our rules
eBesucher API
More