Dear eBesucher-Members!
On the 1st February, we will launch the first eBesucher Price-Rally! Prices have a total value of over 1000 Euros and hundreds of premium accounts will be given to the winners!
But that is not all yet! In order to keep it fair and encourage our international members in joining the rally, we have set up 2 different rallies! The WEST-Rally: for members from Western Europe, the USA and Australia – and the EAST-Rally: for everyone calling their home Eastern Europe or Asia.
Do not hesitate spreading the word and tell your friends about joining and winning great prices!
Price-Rally for Germany, Austria, Switzerland, other Western European countries, the USA and Australia: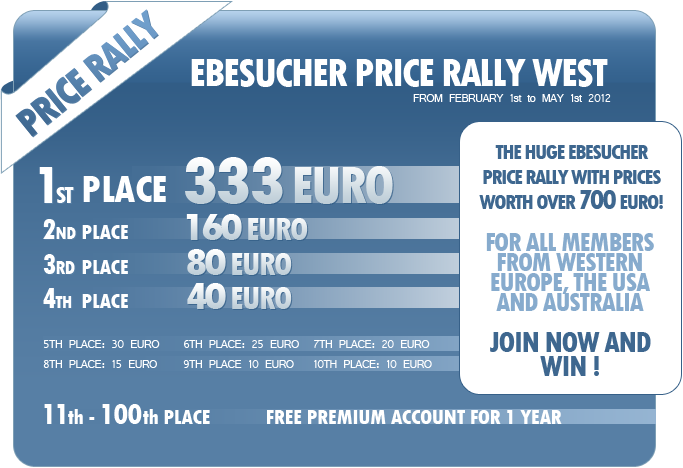 Price-Rally for Eastern Europe and Asia: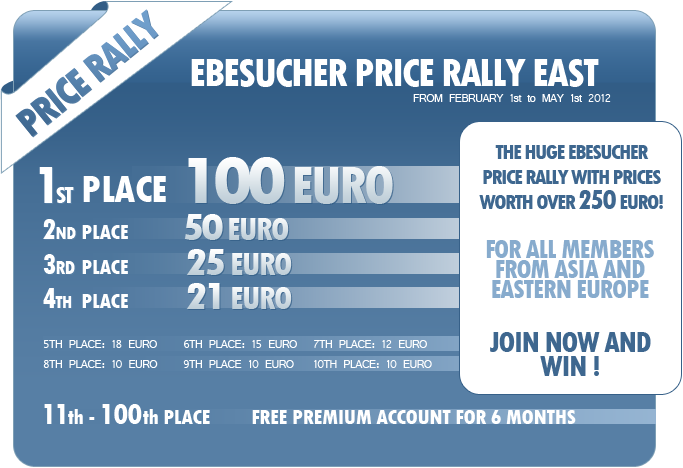 We have decided to reward even those who will not be able to contend for a top ranking. With a total of 200 prices, many eBesucher user will be profiting of the rally!
The rally will be held from the 1st February 2012 and last for 3 months until the 1st May 2012.
The ranking depends on the amount of activity points you have collected through your referrals (only first-level referrals). Therefore, not only the amount of referrals, but also their activity is of importance. Hence, you can make up some ground by referring few but very active and interested members. The calculation of activity points is displayed in the downline-section.
New Banner-Ads have been released today! Feel free using them for referring new members!
You can find more info regarding the Price-Rally here:
http://www.ebesucher.com/refrallye_west.html and http://www.ebesucher.com/refrallye_ost.html
We wish you good luck and hope that you have fun participating at the rally!
Yours,
The eBesucher Staff