Due to a change in the browser structure, the use of the Surfbar in Chrome 60, as well as other chromium-based browsers, could not be ensured.
The surfbar has been updated for these major browsers and the following innovations go into effect:
From now on, the surfbar will be used through the surfbar helper.
The surfbar helper opens itself, when the surfbar is started through the dashboard (surf now) or through the discover -button on an interest area (Animals & Pets, Cars & Motorcycles).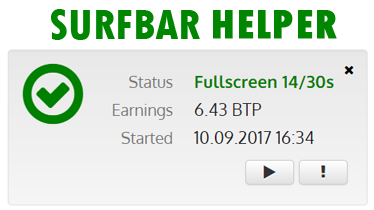 Note: No changes haven been applied to Mozilla Firefox or other versions of Google Chrome.
Our developers will now focus on the development of the new surfbar add-on. Once, the new add-on has been released, we will inform you by newsletter and in our blog.