The implementation of the GDPR regulations has ultimately made us think about our message board. We thus decided to integrate the eBesucher message board on the eBesucher main website and deactivate the forum software. All threads and posts of the board have been transferred to eBesucher.com.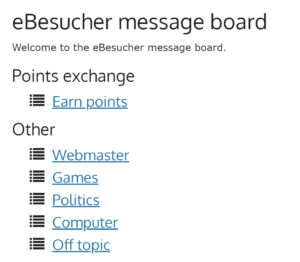 On the one hand, we regret this step, but this necessary measure is at the same time also a good opportunity to yet again take the next step forward. Since the onset of the age of social networks, the message board has become less important to our users. Furthermore, it has developed over the years and became another support and information platform that has also become vulnerable to spam and manual maintenance.
Our staff will be available for community discussions on Twitter, Facebook or the eBesucher blog. Furthermore, you can also reach our support team by email.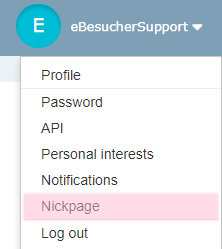 New Nickpage
Once you are logged into the members area, you can access your new Nickpage on eBesucher, see: Username > Nickpage. The nickpage allows you to post your own text or to give hints regarding to your Website or campaigns. Furthermore, the nickpage displays your profile picture (avatar), which you can modify at any time in the members area, see: Username > Profile.