How do I send an advertising email?
Sending an advertising email
After a mail template has been activated by our staff, access the portal for advertisers and go to Mails > Send Mails in order to send it to the target group of your choice. After selecting the advertising email via the dropdown menu, simply click on More.
The following page provides an overview of the dispatch options. The following options are shown: category of the advertising campaign, the language of the recipients, the countries in which the mail is advertised, the method of dispatch, your balance and the number of emails that can be sent. The countries, the shipping method and the number of recipients can be determined. By clicking on Send Mail! the advertising email is sent in real time.
Statistics for mail delivery
The portal for advertisers provides you with real-time statistics on your mail campaign. After you have dispatched your campaign, simply go to Mails > Manage Mails. By clicking on the magnifying glass icon the following table appears: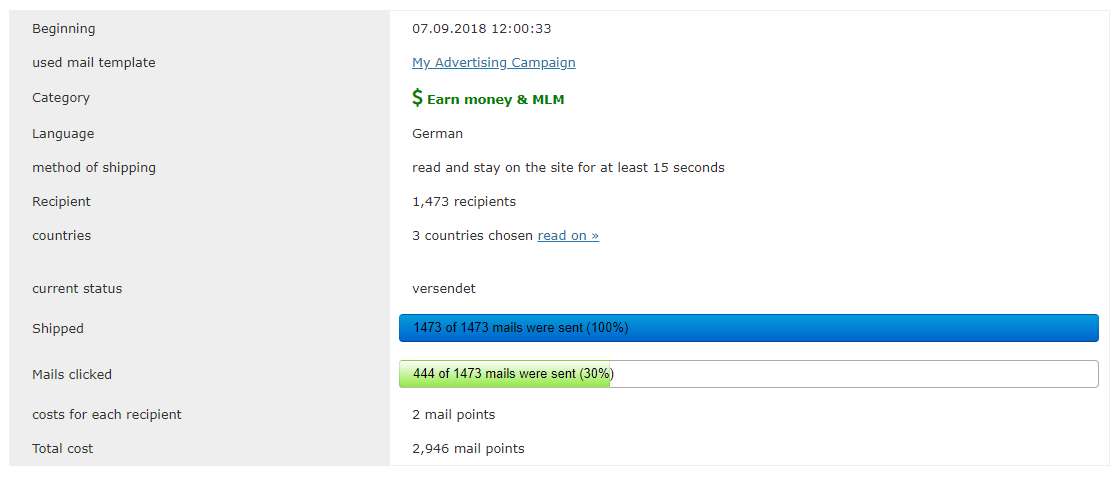 ---
FAQ for Advertisers
Buy visitors
Advertise in the surfbar
Advertise click campaigns
How to send advertising emails
Visitor filters for advertisers
More